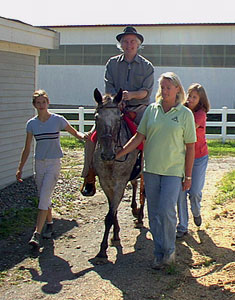 Back in the Saddle, 2004


You really need a scorecard to keep track of the musical adventures of Gary Lavenson, better known to the world as
Gary Shane
.
The North Shore rocker burst onto the scene 25 long years ago after teaming up with guitarist David Champagne and penning the reggae-informed hit Shadow World for the Shane-Champagne Band, a number that topped the WBCN-FM charts for months in 1979.

Shane-Champagne never followed up and split after a couple of years, but then the guitarist came back with another band, Johnny's Coaltrain, a rock homage to John Coltrane, the jazz saxophone giant. These tunes pulled down some of the biggest numbers the Rock of Boston had ever seen.

Then there were the Silvertones, and the Silvertone Prophecy Band, an impromptu band Shane put together two years ago in Greece, where he went to try a radical-but-promising treatment for multiple sclerosis. (Shane, who was diagnosed with MS in 1985, still walks, with some difficulty, with a cane.)

Then there was the American version of Silvertone Prophecy Band. ... and the Free Radicals, a band whose name refers not to 1960s-style political activism, but is an allusion to body chemistry. And that list is not inclusive. There are three other bands that left a recorded musical legacy, Gary Shane and the Maldens, Alan Ladd and the Abashed, and the Felonious Monks and other groupings that came and left without leaving a trace.

Then in mid-2004, Shane put together the New Ensemble, a new band, but one that has a familiar feel because it featured Eric Kolosey from the Free Radicals on guitar and Richard Pierce, a blues journeyman who performed with Shane and the Silvertones on the 1995 album Saddle Up, on harp.

What made the band different, musically, from other projects is the addition of bassist Steve Ruest and keyboardist Michael Diorio, who, the guitarist says, are threatening to bring a certain level of sophistication to his usual rock brawl. Another difference is that the band started playing an updated version of Johnny's Coaltrain, and, perhaps inadvertently, got The Detour back on track.

Right about that time, Shane ran into Portsmouth guitarist Dennis Munroe at a lakeside retreat in New Hampshire. He knew Munroe from back in the day at Sanctuary Records, where Shane recorded much of his early material. Munroe expressed an interest in reviving The Detour.

Shane had his doubts about whether The Detour sound could be recreated, but he was willing to give it a shot, to see if they could pull it off. Original Detour drummer Carl Bergman signed on to the project, then New Ensemble bassist Ruest. Also added to the mix was North Shore singer-songwriter Lynne Taylor as backup vocalist. For the record, original Detour bassist Collin Bodge and guitarist Ron 'Ronno' Erickson are now living in Los Angeles and will not be involved in the project.

After a couple of rehearsals, it became obvious that the band and the music had a lot of life in it. The response of the audience during a live date at the Dodge Street Grill in Salem confirmed that opinion and convinced Shane and company to get into the studio as quickly as possible. A new album called One More Time Now is scheduled to be released in January.

In concert, the band kicks out the jams with classic hits like Johnny's Coaltrain, Working on a Deadline, and Forever on Your Way, the title cut from the first and only full-length Detour album. You'll also hear lost classics like I'm a Shark, the B-side of Johnny's Coaltrain, and new-to-you rockers like Wallflower and Deviated Rock, all of which are previously unreleased tunes or demos and which more than amply demonstrate the power of these tunes.