4/17/10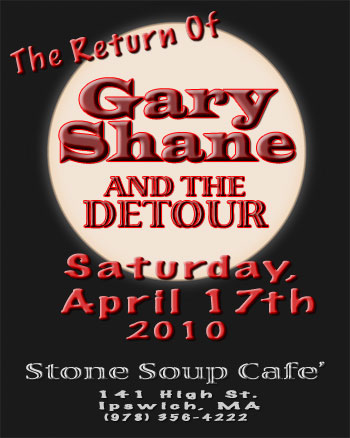 ---
6/13/09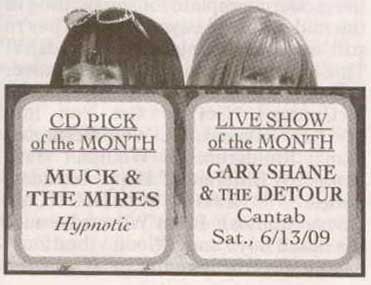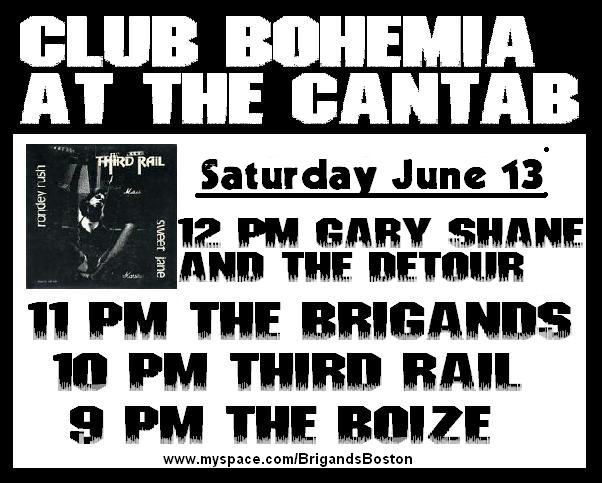 ---
11/15/08
Gary Shane and the Detour
Gary Shane and the Detour
Cantab Lounge, Cambridge, MA
midnight
6/13/09
Blackwater Tavern, Quincy, MA
w/the Brigands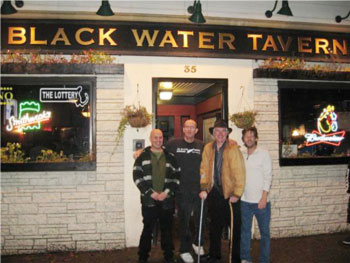 ---
10/24/08

Alan Laddd & the Abashed
with EJ Oulette & Crazy Maggy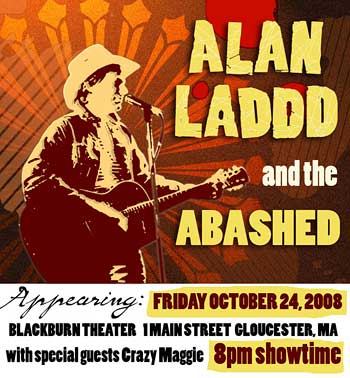 Blackburn Theater
1 Main St. Gloucester, MA

Friday, 8pm October 24, 2008

---
9/6/08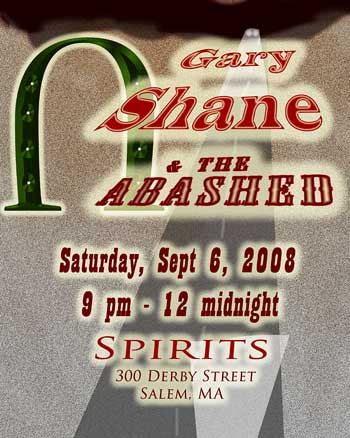 GARY SHANE
and The Abashed

at
Spirits - 300 Derby Street, Salem, MA
Saturday, September 6 at 9:00 pm

---
07/12/08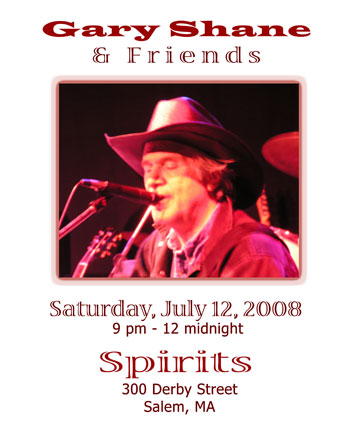 GARY SHANE
and Friends

at
Spirits - 300 Derby Street, Salem, MA
Saturday, July 12 at 9:00 pm

---
6/28/08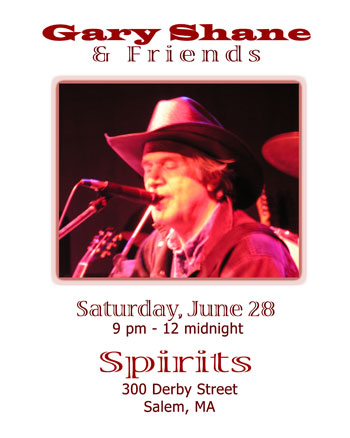 GARY SHANE
and Friends

at
Spirits - 300 Derby Street
Salem, MA
Saturday, June 28 at 9:00 pm

---
6/07/08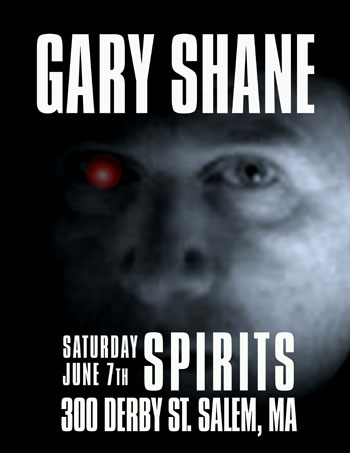 GARY SHANE

Solo Performance

with friends
at
Spirits - 300 Derby Street
Salem, MA
Saturday, June 7 at 9:00 pm

---
5/3/08

GARY SHANE

Solo Performance

with friends
at
Spirits - 300 Derby Street
Salem, MA
Saturday, May 3rd at 9:00 pm

---
2/16/08

GARY SHANE
and the
DETOUR

With Stevie "Wah" Kerans on guitar,
rocking Billy Wells on drums
and Steve Ruest on bass
at
Dodge St Grill
Salem, MA
Saturday, Feb 16th at 11:30 pm

Back in the saddle
Remember that Alan Laddd guy, the one who played at the West End Theater in Gloucester last year. Remember it was his first performance with the Abashed in a quarter century. Oh, that's right. Alan Laddd wasn't his real name. It's a pseudonym used by Gary Shane, which is a stage name for Ipswich rocker Gary Lavenson. Shane was the name of a character played by Alan 'One "D" Ladd' in the movie of the same name and the frontman of the Detour, which scored several huge hits - like 'Johnny's Coaltrain' and 'Shadoworld' - back in the day. Like the Abashed, the Detour has made a couple of comebacks since its '80s heyday. And they're doing it again this Feb. 16 at the Dodge Street Grill in Salem.
Gary Shane and the Detour - let's call it Detour Mach 3 - will feature bassist Steve Ruest, former Shane-Champagne (let it go, we don't want to complicate things - drummer Billy Wells and Stevie Wah, who played with Shane ... OK, we admit it, we can't remember which band he played with. Tottaro and The Brigands open. The Detour go on at at 11:30 p.m. -- way past our bedtime, but you kids can enjoy it. Dodge Street Grille is located at 7 Dodge St. For more information, call 978-745-0139.
---
12/14/07

GARY SHANE
and the
DETOUR
with Billy Wells on drums, Rod Began on guitar and Steve Ruest on bass
at
The Jin
, formerly Weylus
Route 1 North Saugus, MA
Friday December 14, 2007

with The Brigands, Dire Wolf, Plasma Factory
---
9/16/07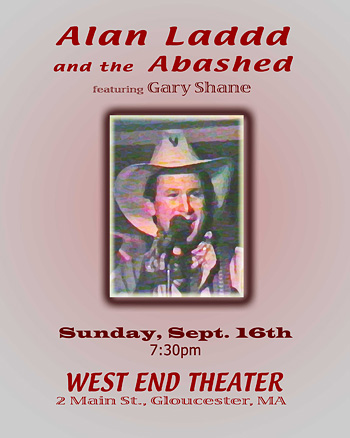 ---
5/05/07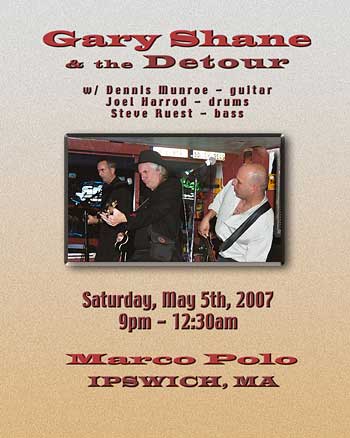 ---
4/28/07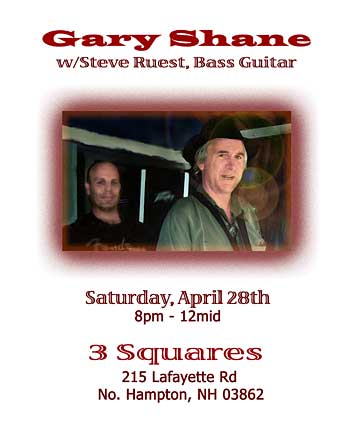 ---
4/06/2007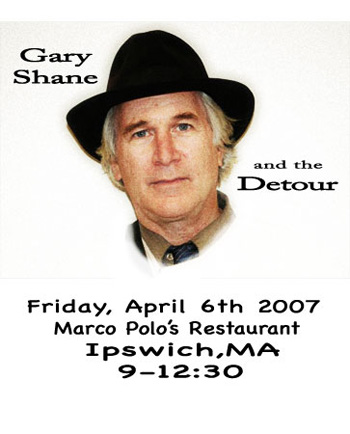 ---
3/3/2007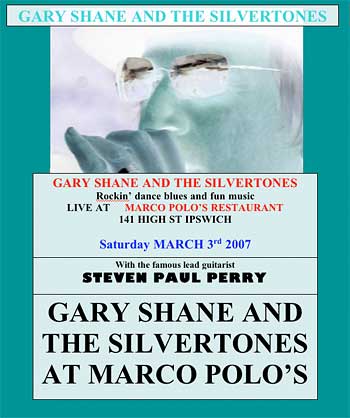 ---
11/17/06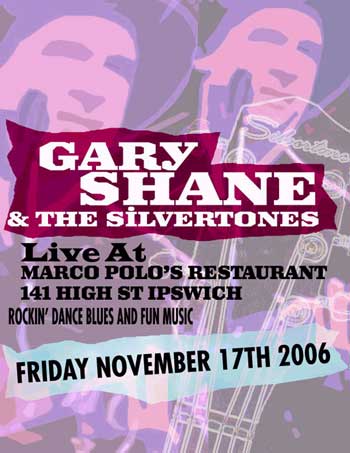 ---
7/21/06
8/26/06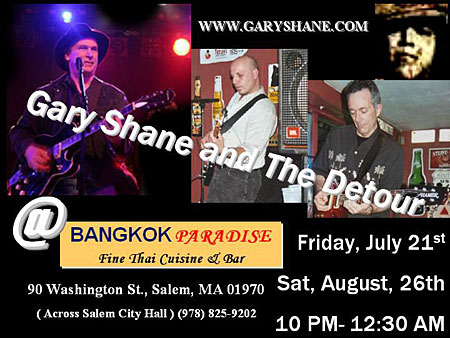 ---
Gary Shane Band
4/14/06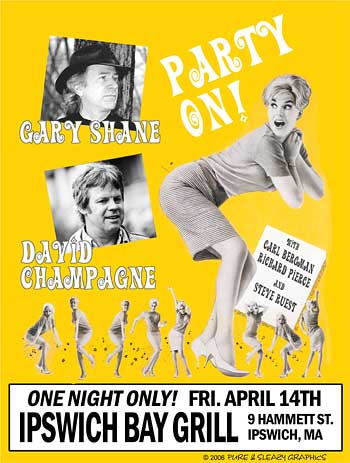 ---
Gary Shane Solo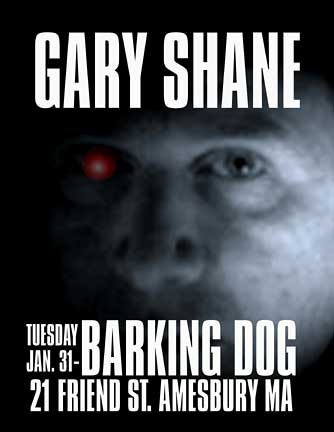 1/31/06