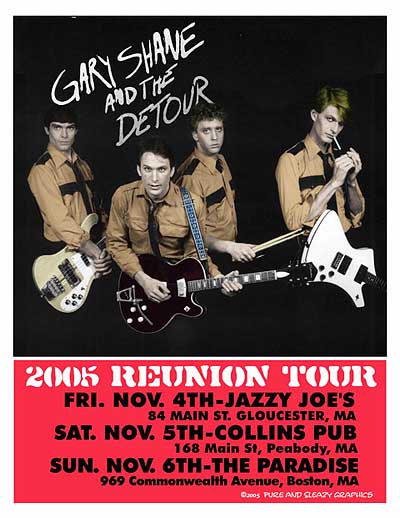 Gary Shane and the Detour
Reunion
November 6, 2005
at the Paradise Lounge
as part of the
Bunratty's Concert
2 - 8 PM
click HERE for more info
---
Gary Shane and the Detour
Friday, July 15, 2005
Chitchat Lounge, Haverhill, MA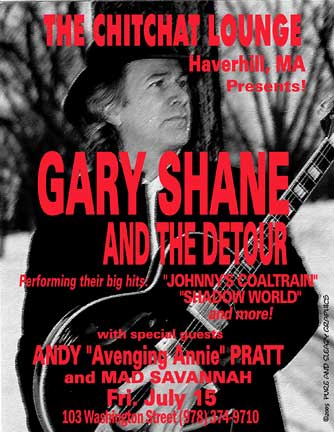 ---

Gary Shane and the Detour
Friday, June 24, 2005
Ipswich Bay Bar and Grill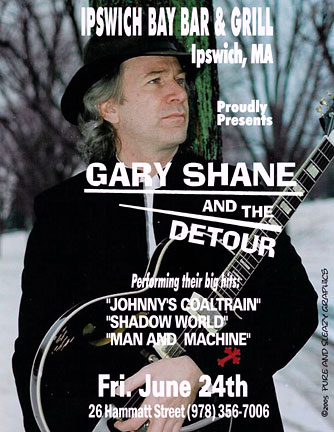 Gary Shane and the Detour
Friday, June 3, 2005
Ipswich Bay Bar and Grill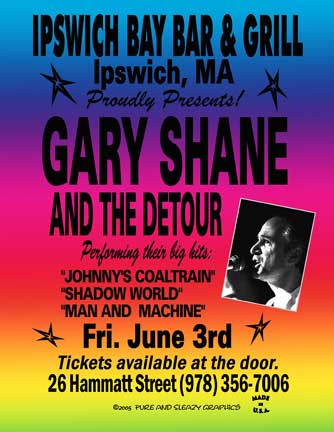 ---
---
Gary Shane and the Detour
Friday, May 20, 2005
ChitChat Lounge, Haverhill, MA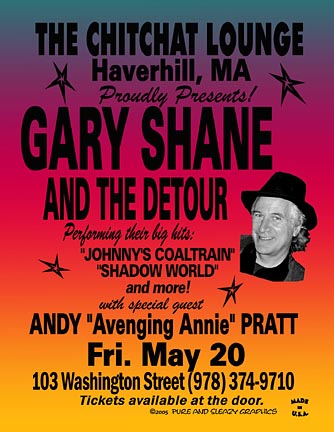 ---
Gary Shane and the Detour
Friday, May 13, 2005
Ipswich Bay Bar and Grill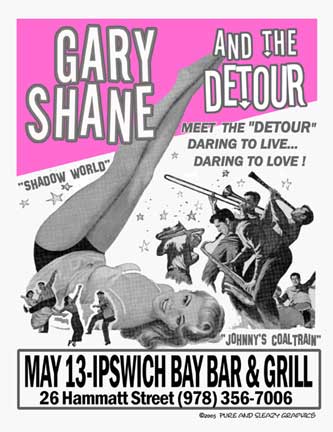 ---
Gary Shane and Friends
Friday, March 11, 2005
Ipswich Bay Bar and Grill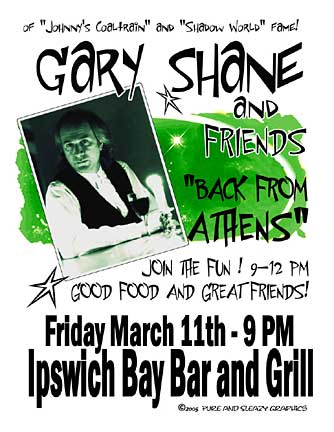 ---

Gary Shane
Saturday, February 19, 2005
The Artzone Club
michalak opoulou 45
Ilisia-Athens, Greece
(210) 729-1841
www.theartzoneclub.gr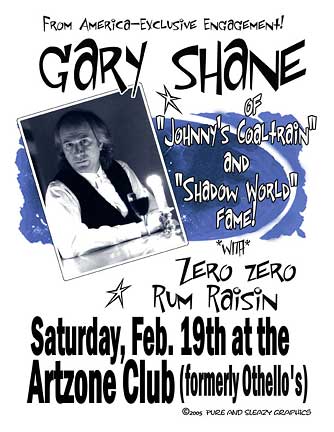 ---

Saturday, January 8, 2005
Rowley VFW Hall
Rowley Veterans Assoc Inc,
19 Bradford St. Rowley MA 01969 (978) 948-7013
see map HERE
OPENING for the puppet show!!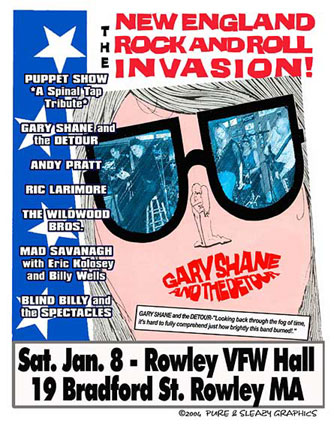 click HERE for fullsize poster
The Wildwood Brothers (Andy and Steve Levesque) at 7:30
Andy Pratt until 8
Ric Larimore until 8:30
Mad Savanagh with Eric Kolosey and Billy Wells until 9:30
GARY SHANE and the DETOUR 9:45 until 10:45
Blind Billy and the Spectacles until 11:15
the puppet show -Tribute to Spinal Tap!
Refreshments served on a cash basis.

---
Gary Shane and the Detour
September 24, 2004
Dodge St. Grill
Salem, MA